Scott impresses as Rizla Suzuki continues development of new GSX-R
Author: Rizla Suzuki Press Release
Posted on: Sunday, Mar 13 2005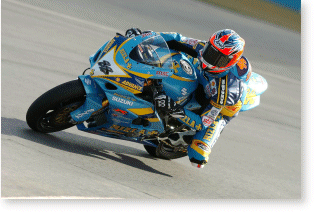 Scott requested specific set-up changes to his Rizla Suzuki after his last test at Valencia in Spain in February. With those changes made by his crew he was comfortable on his GSX-R and was able to run consistently at the front of the time sheets.

Rizla Suzuki British Superbike Champion John Reynolds attended the test to support Scott and was encouraged by the performance of the GSX-R1000K5. JR is recovering from a broken right leg that he sustained at last month's Valencia test. He is undergoing extensive physiotherapy in a bid to be fit for the start of the race season at Brands Hatch on Bank Holiday Monday, March 28th.

Rizla Suzuki now travels directly from Donington Park to Brands Hatch in Kent to prepare for Tuesday's Official BSB test. Former Suzuki World Superbike racer Gregorio Lavilla will join Scott for this test as the team continues to develop the all-new GSX-R1000K5.

Scott Smart:
"Today's test has been a quantum leap forward for me and I am leaving here very happy indeed. My technicians have taken my directions from the Valencia test and interpreted them just the way I wanted - well done to Norris and the boys - I now have an excellent base setting for my Rizla Suzuki.

"I found quick lap times came slightly easier than we anticipated today, mainly because I was so comfortable on the bike. I didn't go for an outright lap time and used race rubber all day long and was still at the cutting edge of the time sheets - that's very encouraging for us all.

"We've altered the geometry of the bike a bit and arrived at a machine that is extremely fast and stable. When it comes to the quicker circuits, the horsepower of the GSX-R1000K5 is really going to shine through.

"As you may have guessed, I am absolutely delighted with the bike and know there is even more to come as we spend more time riding, so bring on Brands Hatch!

"I caught up with JR today and he's more determined than ever to be racing at the first round of the Championship. You have to speak to him to realize just how much effort he is putting in to get fit. I've told him if he can make it to Brands Hatch he'll definitely have a competitive race bike to ride - my fingers are crossed for him."

Robert Wicks:
"It has been an excellent day for the team and we are moving on to Tuesday's Brands Hatch test with Scott getting faster and faster every time he sits on the bike.

"Scott got through a lot of set-up work today and is now becoming familiar with his GSX-R1000K5 as well as much more comfortable while riding it. Our objective was to have a competitive base setting that we can tailor to any given track and we have achieved that.

"At the Brands Hatch test Scott will be able to refine his base setting for pure performance and that will give him a good starting point for when he races there less than two weeks later.

"It was great to have JR with the team at Donington today and to see the determination in his eyes to race at the opening round and defend his title. As a team we are supporting him in every way possible.

"Scott will be joined by Gregorio Lavilla at the Brands Hatch test. Gregorio is a friend of Rizla Suzuki and one of the best Superbike riders around. He will provide a lot of useful data to help the development of the bike and we shall also measure him to fit the GSX-R1000K5 - so if we need to call on him in the 11th hour to stand in for JR at Brands Hatch, then we know we will have a competitive rider on the grid alongside Scott."

Donington Park test times:

1: Ryuichi Kiyonari (Honda) 1:32.676
2: Michael Rutter (Honda) +0.499
3: Scott Smart (RIZLA SUZUKI) + 1.566.