STEVE PLATER – MONDELLO PARK
Author: Helen Pask
Posted on: Tuesday, Jun 19 2007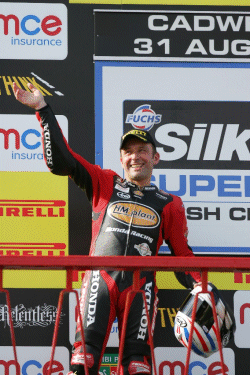 Heavy rain caused the riders a headache throughout the two days of practise with qualifying leaving them with no dry set-up for Sunday's two races, which took place in the dry.

After travelling from Magny Cours in France where he had been testing for Kawasaki France in preparation for the World Endurance series, Steve took one look at the near torrential downpour and opted out of the first practise session on Friday.

"There is little point in going out in this," said Steve. "There is little to be achieved."

The rain cleared away for the second session later in the day but although the rain had stopped the track was still very wet and slippery. Steve went out to test the AIM Yamaha R1 returning to the pits every few laps to make adjustments.

The final session again was held on a wet track although the rain clouds had moved away. This time Steve felt more comfortable on the bike and was running within the top ten for most of the session.

But by the time qualifying began on Saturday the rain had been falling steadily for over half an hour making track conditions treacherous. Steve held 12th place for much of the session but was knocked back a place when Greg Lavilla put in a fast lap in the dying minutes leaving Steve to start his two races from 13th place in a fourth row grid position.

The rain cleared up for race day and an extended warm-up session was held to allow for lack of dry practise.

As the first race got underway Steve settled into 12th place before overtaking Tom Sykes to hold 11th position. But on lap seven Steve returned to the pits to retire with a faulty gear shifter.

Race two saw Steve get away to another good start to hold 12th spot for much of the race. But he was having problems with grip and after a battle with Scott Smart and Ollie Bridewell he finally succumbed to their pressure and fell back to 14th.

It looked as if he would remain in 14th place but with the demise of two front-runners on the final lap Steve was promoted back to 12th crossing the finish line to claim four championship points and his best finish of the season.

"We had some good racing today, but for the gear shifter developing a fault in the first race I could have been a lot further up field," said Steve.

"Then in race two we had a tyre problem, I could have easily finished in the top ten but it wasn't to be."

Its on to Knockhill next on July 1 where the team will be working with Steve to make further progress with bike development to enable him to edge further up the results sheets and into the top ten.



pic credit - Turn One Photography.