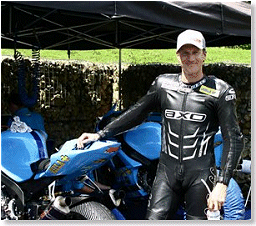 Despite limited riding in 2007 without a race seat of his own, Hodgson impressed the Rizla Suzuki technicians with his insights on the GSX-R1000 – and his ability to get up to speed quickly at the picturesque but difficult to master 2.18-mile Lincolnshire track.

"I've enjoyed the two-day test working with Rizla Suzuki," explained Isle of Man resident Neil. "We got through a lot of work and I hope my thoughts will help the team to be competitive during the second half of the BSB season.

"Coming back to Cadwell Park after a long break has been exciting; the circuit has improved since I last visited. I've relished working with Rizla Suzuki, the atmosphere is fantastic and positive. The team and staff deserve good results, they are working hard enough for them and I hope they come soon."

The 33-year-old 2000 BSB and 2003 WSB Champion is currently looking at various options for racing in 2008 within the BSB, WSB and AMA Superbike Championships.

Rizla Suzuki Team Manager Simon Buckmaster said: "It has been the perfect weather for a test and Rizla Suzuki leaves Cadwell Park with more information and direction on how to extract the maximum performance from its race bikes.

"Neil got through a heavy test programme by anyone's standards and has done countless laps trying new settings, parts and tyres. He certainly found a direction in tyre choice that we will be pursuing for the rest of the season.

"We'll take all of Neil's opinions back to our Crescent Performance Centre HQ and start analysing what we can use to help both our riders to be more competitive at Knockhill in just over a week's time. Thank you to Neil for joining us and putting in such hard graft over the last two days."

Rizla Suzuki regular riders Chris Walker and Cal Crutchlow will be in action at the eighth round of the Bennetts British Superbike Championship at Knockhill in Scotland on Sunday, July 1st.