STEVE PLATER ALL SET FOR KNOCKHILL
Author: Helen Pask
Posted on: Tuesday, Jun 26 2007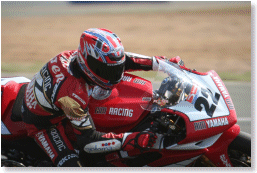 Riding the AIM Yamaha R1 on which he won the North West 200 race in Ireland earlier in the year and finished seventh in the Senior TT at the Isle of Man Centenary TT races last month Steve from Woodhall Spa near Lincoln is anticipating a strong finish to the set of two races at the Scottish circuit at the weekend.

"We have an improved package in that we have two new engines and new chassis parts to be used for the first time this weekend and this should improve our performance and see us heading upwards in the results and towards the podium," said Steve.

"It's been a while since I rode at Knockhill as, for one reason or another I have been unable to compete there. I was injured last year with a broken shoulder, the year before it was a wrist injury and the year before that the team I was with were unable to be there because of financial reasons so it must have been 2003 and that time I finished third on the Honda SP2."

There are two free practise sessions on Friday for the British Superbikes with final free practise on Saturday morning followed by qualifying on Saturday afternoon at 2.40pm.

The first 30-lap race is on track at 1pm on Sunday followed at 3.40pm by the second leg.


Race day TV broadcasts are: ITV 1 3pm – 4.30pm and Sky Sports Extra 8pm – 11.30pm.