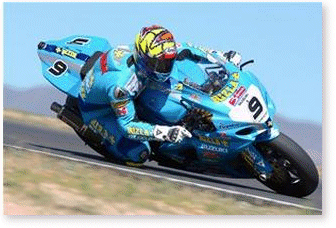 'Stalker', starting from sixth on the grid, used all his experience to master the treacherously-wet conditions to finish a clear fifth in the opening race that was shortened by six laps. In the second water-logged event, shortened from 30 to 26 laps, he was relegated to sixth on the last lap and didn't have time to regain the place he had held for most of the race.

Cal Crutchlow had a tough weekend: In the opening race his visor fogged in the damp weather - reducing visibility - and he finished 11th. In the second race he was lying in 12th when he crashed out on the high-speed run to the hairpin at the 1.29-mile long track; fortunately unhurt.

Honda's Jonathan Rea won both races.

Rizla Suzuki will attend the official BSB test at Croft in North Yorkshire on Tuesday and Wednesday, July 2nd-3rd, before returning to racing at Oulton Park on Sunday, July 15th.

Chris Walker:

"It's been a solid day but I must confess I am smashed to have lost out on fifth place in the second race. I rode as hard as I could in the conditions and to lose a place on the last lap is simply gutting.

"There was a lot of standing water on the circuit and it was very tricky but my Rizla Suzuki was doing what I wanted and I was comfortable riding it. I am still not quite used to the amount of grip the Dunlop tyres give in wet conditions, but with today's experience under my belt if it rains again I'll be wiser and faster."

Cal Crutchlow:

"An 11th and DNF are not the results I wanted or that Rizla Suzuki deserves. In the opening race my visor misted and despite having top 10 pace I couldn't see and had to slow down. Race two was wetter and I felt as though I had very little grip - I was proved right when I crashed.

"It's been a frustrating weekend but I'll sit down with the team, analyse the areas where we can improve and will come back stronger, faster and more determined than ever to get into the top six."

Simon Buckmaster - Team Manager:

"Chris did a very good job in some of the most difficult riding conditions I have ever witnessed. The rain didn't waste any time falling, the circuit was soaked with standing water and he did exceptionally well today. It was great to see him racing competitively and this will give the whole team a boost.

"Cal had high hopes for this round as it is one of his favourite circuits but he ended up struggling with the conditions. The learning curve for a Superbike rookie can be both unforgiving and punishing but we have every confidence he will pull through and look forward to sharing much better days with him soon."

"We now go to Croft for an official BSB test and hope the rain and flooding keeps away - we are past the half-way point of the season and really want to come on strong in the remaining six rounds of the Championship."

Race One Result: 1: Jonathan Rea (Honda) 21:28.015, 2: Ryuichi Kiyonari (Honda) +6.848, 3: Leon Haslam (Ducati) +8.851, 4: Shane Byrne (Honda) +13.782, 5: Chris Walker (Rizla Suzuki) +20.317, 6: Tom Sykes (Honda) +21.994, 7: Gregorio Lavilla (Ducati) +28.222, 8: Ollie Bridewell (Suzuki) +42.951, 9: Sean Emmett (Suzuki) +43.552, 10: Karl Harris (Honda) +46.707, 11: Cal Crutchlow (Rizla Suzuki) +51.530.

Race Two Result: 1: Rea 22.56.710, 2: Haslam +5.858, 3: Kiyonari +9.453, 4: Sykes +9.508, 5: Byrne +14.306, 6: Chris Walker (Rizla Suzuki) +15.171, 7: Leon Camier (Honda) +26.730, 8: Harris +34.846, 9: Emmett +49.449, 10: O Bridewell +53.371. DNF: Cal Crutchlow (Rizla Suzuki).

Championship Positions (after 7 of 13 rounds): 1: Kiyonari 248, 2: Rea 237, 3: Lavilla 220, 4: Haslam 205, 5: Byrne 151, 6: Camier 145, 7: Sykes 138, 8: Chris Walker (Rizla Suzuki) 104, 9: Tommy Hill (Yamaha) 86, 10: Harris 79, 11: Cal Crutchlow (Rizla Suzuki) 56.