Two Bike Outing for Southern '100' Road Races, Isle of Man.
Author: Maria Costello
Posted on: Sunday, Jul 08 2007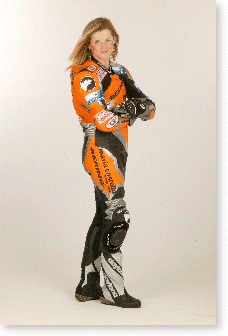 Last year Maria rode the RLR Motorsports 400i at the Billown Circuit event but bad weather forced the organisers to abandon the first evening's races leaving her with only one race to compete in. Maria finished in a respectable 15th place in the combined 125/400 race and was the 7th 400 home.



'It was a great meeting despite the bad weather, the organisers are very welcoming and I'm looking forward to returning with both my 600 and 400 this time. I'm doing my home work by playing on my Playstation as the Southern 100 course is on the TT Superbikes game," says Maria.



Maria is racing both her bikes at the same event for the first time this year, having two race machines will ensure more track time with which to learn the track. Costello recently competed on her new Black Horse Motorcycle Finance sponsored Bering Honda RVF400 at the Cock o the North Road Races at Scarborough which has put her in good stead for the S100 meeting at Castletown.



As the first woman in MGP and TT history to stand on the podium as a solo racer Maria will be hoping to continue this success at the Southern 100. Maria will be joining some of the Worlds top road racers at this newly recognised International meeting including Cameron Donald, Guy Martin and Ian Lougher.