CRUTCHLOW AIMS FOR TOP SIX
Author: Rizla Suzuki Press Release
Posted on: Thursday, Jul 12 2007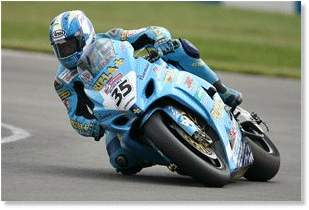 On May 7th during the Championship's first visit to the 2.69-mile-long Cheshire track, he scored an impressive season's best seventh place after spending much of the race in contention with the leaders. He said: "I love Oulton Park; it is a cracking but challenging circuit that brings the best out in riders.

"My last visit to Oulton Park was good and it means we can use the data from then as a starting point this weekend. I think we have improved my Rizla Suzuki since then so it's time to step up a level and start running in the top six, it's where we deserve to be."

Rizla Suzuki's Chris Walker is resurgent after a strong performance at the last round at Knockhill on July 1st, taking fifth and sixth places. He suffered a high-speed crash at an official test at Croft last week but remains optimistic for returning to Oulton Park.

Walker said: "I hurt my left arm in the crash at Croft last week but it is healing well and I'll be ready for the racing this weekend.

"We have been continuously improving the Rizla Suzuki all season and the settings we will start with this time round will be very different than previously. I think we will be much more competitive - I'm targeting the podium."

Due to noise restrictions, racing at the eighth round of the Bennetts British Superbike Championship starts slightly later than normal with the premier class taking to the track at 1350 on Sunday, July 15th.