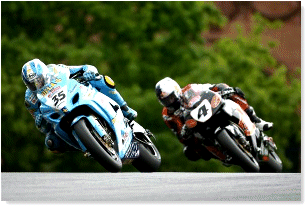 Crutchlow tried both his Rizla Suzukis during the warm and dry qualification session as he sought final direction for a race set-up. He settled on one bike and with his only qualifying tyre he left it until the dying seconds to secure a second row start for the double-header races at the 2.69-mile long picturesque but challenging track.

Rizla Suzuki's Chris Walker competed at the top of the time sheets early in the session but ended up 11th. He also rode both his Rizla Suzukis in qualification and has now settled on a set-up that utilises the strengths of both bikes. Honda's Jonathan Rea took pole position.

Due to noise restrictions, racing at the eighth round of the Bennetts British Superbike Championship starts slightly later than normal, with the premier class taking to the track at 1350 on Sunday, July 15th.

Cal Crutchlow:

"We had quite a bit of work to get through during qualification and ended up making a choice on the best race tyre and best bike for the races just before I had my single chance to go quick on a qualifying tyre.

"Seventh is a decent starting point and it gives me the chance to run with the front guys if I get away well. There's a slight feeling of instability through the corners that I have asked my technicians to investigate and if they can fix it then I think I have a chance."

Chris Walker:

"After the positives of Knockhill I am a little frustrated to find myself back in 11th. Early in the session I moved from my number one bike to the spare and that didn't help as it wasn't handling as well as I would have liked.

"For the races we will take the best parts of both my bikes and bring them together in one package. If I can get a sensible start then I think the top six is not an unreasonable target - maybe it could even be better, we will have to see."

Simon Buckmaster - Team Manager:

"Cal deserved a second row grid position after the amount of effort and commitment he put in to reduce his lap times. His crew has been focussed this weekend and the result is Cal's race pace is as competitive as it's ever been and hopefully that will translate to two good finishes.

"Chris put in the same gargantuan effort as Cal and certainly deserved a better starting position - and but for a little bad luck and timing, would have achieved it. If you add his sector times together, his ideal lap is well over half a second less than the one he actually recorded, so we remain positive he can score well in the races.

"As seems the norm this summer, the weather could yet play a big factor in the races tomorrow. Wet or dry, Rizla Suzuki remains determined to get as high up the results sheets as possible."

Qualification Times:

1: Jonathan Rea (Honda) 1:34.914
2: Tom Sykes (Honda) +0.358
3: Leon Haslam (Ducati) +0.615
4: Ryuichi Kiyonari (Honda) +0.689
5: Gregorio Lavilla (Ducati) +0.746
6: Karl Harris (Honda) +1.144
7: Cal Crutchlow (Rizla Suzuki) +1.288
8: Shane Byrne (Honda) +1.472
9: Leon Camier (Honda) +1.571
10: Tommy Hill (Yamaha) +1.849
11: Chris Walker (Rizla Suzuki) +2.162.