DISMAL WEEKEND AT OULTON PARK FOR AIM YAMAHA
Author: Helen Pask
Posted on: Monday, Jul 16 2007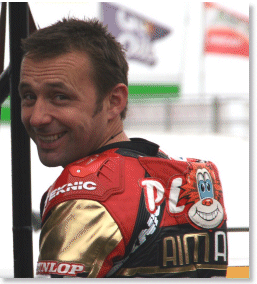 Up to that point everything had been going well. Changes had been made to the chassis and apart from a rear tyre issue the bike was running smoothly.

After Steve was ruled out of racing for the weekend Les Shand was called in to deputise but after completing the free practise and then qualifying on Saturday he was forced to withdraw because of an ongoing ligament problem in his arm.

STEVE PLATER

The bike highsided at Tower, the fifth gear left-hander just after Clay Hill on the final lap of the session.

Obviously it was wet but the bike was running good, we had made some changes and everything was going forward. We were running top ten all session really but we are still struggling for rear grip. I highsided, then the bike followed me into the tyre wall and gave me a good hiding. I was knocked out for quite a long time, which means that I have an automatic eight-day ban or go and get a head scan to prove that I am fit to race. I also damaged a couple of ribs and this will be the deciding factor whether or not I will be riding at Mallory next week. I am going for some treatment and will just have to wait and see how I feel.

It is a shame I was unable to ride the bike this weekend as we had made some good chassis changes and things were looking really good for Oulton. We had been a million miles off in the wet at Knockhill but were running inside the top ten here and I was feeling good to be competitive again.

ALISTAIR FLANAGAN

We had made significant changes to the chassis for the weekend and the bike was running really well until the crash. Luckily Steve is not too badly injured and should make a quick recovery. Whether it is in time for the next round we are not sure. He is having treatment on his damaged ribs but with Mallory Park looming up at the weekend it is a race against time.

Even if Steve does not race, the team will be at Mallory with Steve Allan riding the AIM Yamaha Supersport bike and if everything works out he will ride it for the remainder of the season.

Free practise begins on Friday with qualifying on Saturday prior to racing on Sunday at Mallory Park. The two Bennetts British Superbike races will be run over 30 laps and are scheduled for 1pm and 3.40pm while the Maxxis British Supersport race will be run over 28 laps at 1.50pm.