NCT Vanfit Yamaha Superstock Update
Author:
Posted on: Monday, Jul 16 2007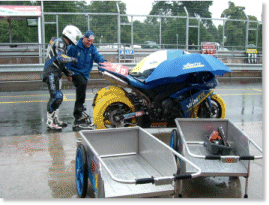 Both Hayden and Alastair had been running well in the qualifying but when the race days came the heavens opened up on us. The disappointment on everyone's faces was clear to see but believe me standing on the pit lane with water running around your ankles is no joke as happened in Knockhill.

Below is the revised timetable for the rest of the season which has come through from the MCRCB this morning. Lets hope that the weather is kinder to us at the end of the season than it has been recently.

Look forward to writing a more positive report next time around.

Cynthia.

As a result of the cancellation of the Championship race at Oulton Park yesterday (July 15th), the following revised Championship calendar is announced;



2007 METZELER RACETEC NATIONAL SUPERSTOCK CHAMPIONSHIP



ROUND 8 10-12 AUGUST CROFT



ROUND 9 25-27 AUGUST CADWELL PARK



ROUND 10 & 11 21-23 SEPTEMBER DONINGTON PARK GP



ROUND 12 & 13 12-14 OCTOBER BRANDS HATCH INDY



At the "double-header" events at Donington Park and Brands Hatch, one race will be held each day on Saturday and Sunday.