HANNspree Ten Kate Honda back for battle in Brno
Author: HANNSPREE Press Release
Posted on: Monday, Jul 16 2007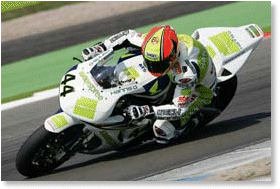 Current series leader James Toseland and his team-mate Roberto Rolfo performed well at the Pirelli development test at Brno and the official FGSport test at Vallelunga. The team took the opportunity to develop new suspension parts and an improved traction control system on the CBR1000RR machines. Both riders are happy with the set-up and looking forward to putting the difficulties of the last two rounds behind them.



Toseland will be aiming to further increase his series lead as the championship approaches the final part of the 2007 season. The British rider has ridden consistently well so far and currently has nine podium finishes and five race wins under his belt.



Team-mate Roberto Rolfo has continued to improve over the last eight rounds and will be looking to maintain his recent good form at Brno. The Italian rider currently lies in eighth place in the standings with five all-important rounds left to go.



Ronald ten Kate, Team Manager:



"We've had two less fortunate rounds, but we have used the time since Misano to test at Brno and Vallelunga. We've made some good improvements to the machines and the lap times secured on both these tests give us confidence that James can do very well. The next two rounds could be crucial for the championship so we will give it all we have got to provide a race winning machine for James.



"With Roby, he was definitely very competitive at both the Brno and Vallelunga tests but we've got to work on his outright speed in Superpole and in the first laps of the race. When analysing the results, his riding in the second part of the race is good enough to run with the leading group but we've got to be quicker at the beginning of the race."



James Toseland:



"We've had two tests since Misano and both of them went really well. We tested the new PI electronics and we were one of the quickest in both tests. I just can't wait to get back to racing and start winning again. Brno is a circuit that both myself and Honda have done well at in the past so I'm pretty positive about this weekend."



Roberto Rolfo:



"I really like Brno. I rode there in the 250 class and I always got a good result, although unfortunately I crashed on the last lap of what would have been my first race win there in 2002. With Superbikes, the circuit feels very different. During the tests at Brno my lap time was good. I think the race conditions will be a lot hotter compared to the test conditons, but I don't mind this too much as I enjoy to race in hard conditions. I am looking forward to getting back to racing after the break."