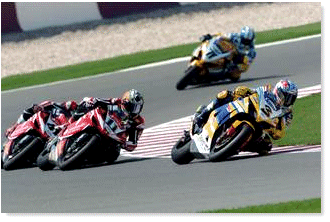 Team mate Yukio Kagayama started the day well by taking third place in race one but he crashed out of the second trying to get up into the top three. He was uninjured but disappointed not to be in contention for a podium in the latter stages of the race.

Series leader James Toseland (Honda) won the first race after a terrific battle with Biaggi, Kagayama and Noriyuki Haga (Yamaha). Towards the end of the race Toseland ran wide and into the dirt, kicking up stones and dirt. Biaggi was right in his wheel tracks and was showered with stones, some smashing holes in his windscreen and another hitting his left glove and ripping a hole in it, damaging one of his fingers that needed medical attention.

At one stage, he and his good friend Haga touched but luckily they both were able to carry on -although Haga's gesticulation afterwards showed his displeasure.

The second race saw a determined charge up the field by Biaggi. The race had been delayed because of light rain and then shortened by one lap to nineteen. Biaggi was seventh at the end of the opening lap but moved up the field and passed Toseland to take the lead on lap 14. From then on in, he kept a cool head and ran out the winner by over one and a half seconds at the flag.

Max Biaggi - Race 1: 2nd, Race 2: 1st:

"Brno loves me and I love Brno. It's incredible to think of how many good memories I have of this place and today continued that pattern. It's a fantastic track because there is such a good variety of turns - some fast, some not so fast. Tyres were always going to be a bit of a problem today, but the second race was better for them because it was a bit cooler. I didn't change anything to the bike from the first race to the second, except put fresh tyres in of course. I want to thank the whole Alstare Suzuki squad for these great results today; it's been a while since I won a race, but to win one today and finish second in the other makes me very happy."

Yukio Kagayama - Race 1: 3rd, Race 2: DNF:

"I am happy with my first race and unhappy with my second! After my success last year at this track and after the recent improvements, I really thought I could win a race or maybe take two podiums. After race one, we didn't change anything on the bike but, while I was trying to chase the leaders, I lost the front end and crashed. It happened very quickly and I could do nothing about it. Up until then, I felt that I could catch the top three and take a podium, but my plan didn't work out, so I am not so happy. "

WSB Results:

Race 1: 1 Toseland (GB-Honda), 2 Max Biaggi (I-Alstare Suzuki Corona Extra), 3 Yukio Kagayama (J-Alstare Suzuki Corona Extra), 4 Haga (J-Yamaha), 5 Rolfo (I-Honda), 6 Fabrizio (I-Honda), 7 Corser (Aus-Yamaha), 8 Lanzi (I-Ducati), 9 Neukirchner (D-Suzuki), 10 Nakatomi (J-Yamaha),

Race 2: 1 Max Biaggi (I-Alstare Suzuki Corona Extra), 2 Toseland, 3 Fabrizio, 4 Haga, 5 Rolfo, 6 Bayliss (Aus-Ducati), 7 Lanzi, 8 Nieto (E-Kawasaki), 9 Nakatomi, 10 Xaus (E-Ducati). DNF: Yukio Kagayama (J-Alstare Suzuki Corona Extra).

Championship Points: 1 Toseland 305, 2 Max Biaggi (I-Alstare Suzuki Corona Extra) 262, 3 Haga 260, 4 Bayliss 249, 5 Corser 191, 6 Lanzi 150, 7 Xaus 140, 8 Rolfo 131, 9 Neukirchner 111, 10 Yukio Kagayama (J-Alstare Suzuki Corona Extra) 105.

SUPERSTOCK 1000:

Team Alstare Suzuki Corona Extra rider Xavier Simeon rode to his first victory at Brno today after battling with Ayrton Badovini (MV) and Matteo Baiocco (Yamaha) throughout the 12-lapper.

Xavier Simeon -1st:

"I am so happy to take this win and the first thing I have to do is thank my team for providing me with a great bike and thank Francis Batta for having faith in me and asking me to ride for his team. Everything today worked out perfectly. I led the first lap, but then when Pirro and Badovini took the lead, I didn't panic at all. I just watched them and tried to work out where I could make a pass. Badovini and I had a great fight in the last few laps and I think we exchanged the lead several times. I led on the last lap and was a bit surprised when Badovini tried to go past me on the approach to a right-hander. I think he must have given his bike a bit too much gas and down he went. After that all I had to ride smoothly and the victory was mine. I can't tell you how happy I was to see the chequered flag and take my first win in this class. Now that I have taken my first win, I'm sure I can do it again."

Superstock 1000 Results: 1 Xavier Simeon (B-Alstare Suzuki Corona Extra), 2 Baiocco (I-Yamaha), 3 Corti (I-Yamaha), 4 Aitchison (Aus-Suzuki), 5 Pirro (I-Yamaha), 6 Mahr (A-Yamaha).

Championship Points: 1 Baiocco 115, 2 Aitchison 100, 3 Xavier Simeon (B-Alstare Suzuki Corona Extra) 96, 4 Canepa 80, 5 Corti 80, 6 Dionisi 77.