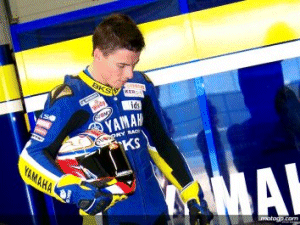 Race one brought a thilling four-way tussle between Toseland, Noriyuki Haga, Max Biaggi and Yukio Kagayama. The four swapped place numerous times before the HANNspree Ten Kate Honda rider claimed the top spot on lap 10. He proceeded to keep his rivals at bay for the remainder of the 20-lap race, stealing victory from Biaggi after a nail-biting fight in the final minutes.

The second race of the day saw another battle between Toseland and his Italian rival. After seeing off Haga, the duo played cat and mouse until the final lap, but in the end in was Biaggi who clinched the victory. However, a second place finish was more than enough to extend Toseland's championship lead to 305 points.

Roberto Rolfo also had a successful day as he put in two of his best performances of the season so far. Having started from ninth on the grid, the Italian rider fought incredibly hard to secure two fifth place finishes. He collected a crucial 22 points to add to his championship tally and maintain his eighth place position in the standings.

Ronald ten Kate:

"After Misano, we all understood that is was very important for us to get things back on track. We had two productive tests in Brno and Vallelunga, where we got the PI system on the machine again for the electronic side of things. It has paid off today and we are definitely competitive again. Roby also did very well today - this was probably his best race of the season so far. He is showing improvements, but of course it is difficult to have a rider like James beside you in the garage because you are always a little bit in the shadow. Today he gets my big compliments for the way he rode. We are looking forward to going to Brands Hatch now and hope we can continue to do well."

James Toseland:

"After Misano these two races were pretty big. We had fallen behind on electronics, but we knew what the problems were and we sat down and figured out what we needed to do. Since the tests things have just got better and better. Thanks to the team and the PI people - it's meant going from third and fifth place to second and third. I feel like we are back in the game again and it's nice to draw a line under it all."


Roberto Rolfo:

"I am half happy and half not. I think race one was very good because I pushed hard to catch up with Haga towards the end, although my lap times were better than my position. I was confident for race two but unfortunately after the first corner I had to go wide because of debris on the track and I highsided. I lost a lot of time at this point and it was not very easy to catch up. I was also experiencing some pain in my leg from the crash in qualifying yesterday. The ligament is inflamed and I had no force to push as fast as I wanted. Anyway, my lap times were quite good but the difference between them and the rider's in the front was not what I wanted."