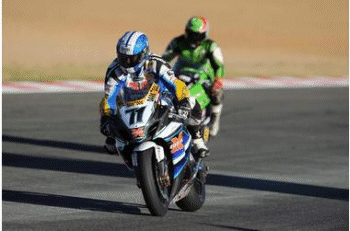 Kagayama spent the day getting used to his Alstare Suzuki again after his Suzuka 8 Hour race win last weekend in Japan on a very different GSX-R1000 and took things steadily as a result. And Biaggi has never raced at Brands Hatch before so used the time today learning one of the most difficult tracks on the calendar.

Series leader James Toseland (Honda) topped the standings today - much to the delight of his home fans - with Troy Bayliss (Ducati) second, Ruben Xaus (Ducati) third and Troy Corser (Yamaha) fourth.

Yukio Kagayama - 8th, 1:27.544:

"Last weekend I rode a Yoshimura Suzuki in the Suzuka 8 Hour race and that bike is very different to my Alstare Suzuki. So today it was necessary for me to get used to the Alstare bike again after many, many hours on the other one. I have been to Brands Hatch many times before so today I just tried to find a good set-up for my bike. This track is a fun track to ride when you have a good set-up and good feeling on the bike. If you do not have a good set-up, then it is a difficult track to go fast."

Max Biaggi - 14th, 1:28.215:

"The track is quite short and there are not so many fast corners here. There are many tricky corners and some blind approaches and if you do not know what you are doing it is easy to lose time. It is definitely a track where you need good knowledge to go fast and as I have not raced here, I need to learn the track first. This is what today was about for me. We'll make some gearbox changes for tomorrow and explore what the bike can do more deeply. To go fast round here you have to have a good set-up and feel comfortable and that's what we'll go after tomorrow."

Friday WSB Qualifying: 1 Toseland (GB-Honda) 1:26.400, 2 Bayliss (Aus-Ducati) 1:26.625, 3 Corser (Aus-Yamaha) 1:26.746, 4 Xaus (E-Ducati) 1:26.815, 5 Lanzi (I-Ducati) 1:27.268, 6 Haga (J-Yamaha) 1:27.351, 7 Nieto (E-Kawasaki) 1:27.507, 8 Yukio Kagayama (J-Alstare Suzuki Corona Extra) 1:27.544, 9 Rolfo (I-Honda) 1:27.763, 10 Fabrizio (I-Honda) 1:27.823, 14 Max Biaggi (I-Alstare Suzuki Corona Extra) 1:28.215.

SUPERSTOCK 1000:

Team Alstare Suzuki Corona Extra rider Xavier Simeon showed that his recent form is no fluke by posting the day's fastest lap in this afternoon's qualifying session at Brands Hatch.

His time of 1:30.18 was over two-tenths-of-a-second quicker then his nearest rival Ilario Dionisi (Suzuki). Third quickest is Niccolo Canepa (Ducati) with Ayrton Badovini (MV) fourth.

Xavier Simeon - 1st, 1:30.181:

"The bike felt good, but the track felt quite slippery today and I found it difficult to get good grip from the rear tyre. After only two laps the tyre was sliding a little and that made things very interesting! Even so, the lap times came pretty easily and maybe I could've gone even quicker. I am happy today but I know that tomorrow may very well be a different story so I am just going to try my hardest to keep up this level. This is a very hard track for a 1000 and last year riding the 600 was so much easier. The difference between the 600 and 1000 is very big, but it's a challenge I enjoy. I am determined to do my best here and keep my good form going."

Friday Superstock 1000 Qualifying: 1 Xavier Simeon (B-Alstare Suzuki Corona Extra) 1:30.181, 2 Dionisi (I-Suzuki) 1:30.401, 3 Canepa (I-Ducati) 1:30.464, 4 Badovini (I-MV) 1:30.772, 5 Pirro (I-Yamaha) 1:30.790, 6 Aitchison (Aus-Suzuki) 1:30.822.