REEVES REVS UP FOR CADWELL CHALLENGE
Author:
Posted on: Tuesday, Aug 07 2007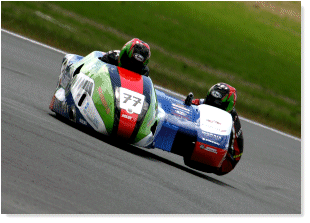 Reeves and Farrance head the points table scoring 100 points for winning all four races to date. Their Eastern Airways teammates Sean and Mark Hegarty from Felixstowe hold second spot on 60 points while Macclesfield riders Gary and Dan Knight are just one point adrift in third place with 59 points.

However, Cadwell Park does not hold happy memories for the Kent world champion, as he has never completed a race at the Lincolnshire circuit. He last rode there in 2003 in the MRO Super Sidecar championship where he pulled out with a broken chain after heading the field for most of the race.

Reeves will be aiming to break his duck at Cadwell this time around and pick up maximum points in each of the two races to extend his lead in the championship in the run up to the final two rounds at Brands Hatch (September 30) and Mallory Park (October 21).

"I don't know what it is about Cadwell, I like the track but just havent been able to ever finish a race there. But I am determined this year will be different and I will be going all out for the double win." Said Tim.

Felixstowe brothers Sean and Mark Hegarty will also be flying the flag for Team Eastern Airways at Cadwell, they too need to bag as many points as possible to consolidate their second place in the series.

Practise takes place through Saturday with both races taking place on Sunday.