STEVE PLATER RETURNS TO ACTION
Author: Helen Pask
Posted on: Tuesday, Aug 07 2007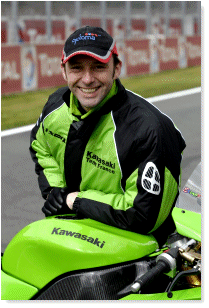 The race marks the start of the second half of the season and is set to be a decisive point in the race for the championship. Thirty five points are on offer to the winner at Oschersleben and with only 25 points separating the two top teams it will be a highly competitive challenge for Plater whose Kawasaki team is running second to the Suzuki French team.

Kawasaki France won the round at Albacete in Spain and was only a point adrift from Suzuki, but while the Kawasaki team did not compete in the Suzuka eight-hour race two weeks ago their closest rivals did and scored a strong second place to extend their series lead to 25 points.

"Obviously we are looking for nothing less than the win at Oschersleben" said Plater. "We need to pick up as many points as possible over our rivals if we are to win the championship. I feel a lot better now and my ribs are healing well. I can actually sneeze or laugh now without any discomfort although I am still having a bit of difficulty getting into a comfortable position to sleep."

Plater is joined at Oschersleben by his two teammates Gwen Giabbani (France) and Julian Mazuecos (Spain) where free practice will take place on Thursday morning and the first round of qualifying on Thursday afternoon before the night-time testing session. The second qualifying session is scheduled for Friday morning. The race itself will start on Saturday, August 11 at 2pm and after a gruelling 24 hours ends on Sunday at 2pm (British time).

Because the race clashes with the British Superbike round at Croft on Sunday, Keith Amor will once again deputise for Plater who will be back in action for the next round of the series which takes place at his local circuit of Cadwell Park on August 27.