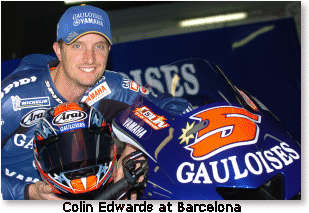 Both riders were well inside the circuit record of 1.44.641 but, on another day of bright sunshine and warm spring temperatures, the reigning World Champion Rossi continued to encounter difficulties with the set-up of his 2005 version YZR-M1 machine and ended the day with the ninth fastest time.

However, his team-mate Edwards was the leading challenger to Honda's factory squadron, lapping sixth quickest and making his way through a mountain of tyre testing work alongside Michelin's engineers. Edwards has adapted swiftly to the M1 after switching from Honda at the end of last season and today lapped 2.5 seconds quicker than he had done on the RC211V machine during the race at this circuit in the Catalunya Grand Prix last June.

The quickest lap of the day was set by yesterday's top man Max Biaggi, who again stunned his rivals with a late charge just minutes from the end of the marathon eight-hour session. The Italian's lap of 1.42.260 was some three tenths quicker than the pole position record at this circuit, set by Sete Gibernau with a time of 1.42.596 last season.

Gibernau and his team-mate Marco Melandri had enjoyed long spells at the top of the time sheets throughout most of the day. However, as the sun set and the track cooled, Biaggi and Alex Barros both mounted late rallies which would see them take the top two places and relegate Gibernau and Melandri to third and fourth respectively. Nicky Hayden completed the all-Honda top five.


VALENTINO ROSSI (1.43.291, 69 laps)

"We've had a few problems and worked on the setting to try and get a better feeling but we didn't manage to fix things today. We honestly don't know why we are not able to work at 100%. We've tried a few different ways but we've made some mistakes. Tomorrow I'll try to win the BMW but today we weren't fast even on qualifying tyres. We've got a lot of work to do. Hopefully the weather stays nice so that we can continue working and prepare for the next test at Jerez."

COLIN EDWARDS (1.43.129, 73 laps)

"To be honest I'm really happy with today. As far as the bike set-up is concerned, it's barely been touched since the Sepang and Phillip Island tests. We tried a couple of things out but more or less ended up going back to where we started, and I feel comfortable with that. It's a good sign because it means we've got a good base setting for the bike which should work at most of the circuits. We'll make some small changes tomorrow to see if we can refine things but we won't be straying too far from what we have. This morning I tested a whole bunch of front tyres and in the afternoon we moved on to the rears, so it was a solid day's work for me."

JEREMY BURGESS – ROSSI'S CHIEF ENGINEER

"Racing wouldn't be any fun if there wasn't some hard work involved. I suppose we were too good last year so we've decided to make things interesting by creating a few problems for ourselves! We'll keep working tomorrow and see what we can come up with - there is still a long way to go before the start of the season."