THE MANX GRAND PRIX IS ALMOST HERE
Author: Maria Costello Racing
Posted on: Thursday, Aug 16 2007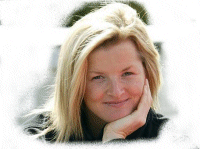 Maria will be one of seven female racers competing on equal terms against the men at the Manx out of a total of 283 individual entries accepted by the Manx MCC, organisers of the meeting for the last 84 years.

In 2005 Maria became the first female to stand on the podium in the history of the TT or Manx Grand Prix when she finished third in the Ultra Lightweight race on an RLR Honda RVF400.

Last year she was dealt a less fortune hand when she crashed and badly broke her leg and shoulder blade during practice. Far from being put off Maria is back and full of determination to be up with the front runners once again.

" It has been a tricky year recovering from my injuries they were the worst I've ever had to over come. But I've had some brilliant support including some special help more recently to get me back to where I was and now I can't wait to be racing around the TT course, it's my favourite track ." Added a smiling Costello.

This year the Manx will see yet more TT stars return for their second helping of TT road racing when the likes of Ian Lougher, Chris Palmer and Ryan Farquhar compete on classic machinery. Maria will be competing in Wednesday's Junior race onboard her Bering Honda CBR600RR. And she will compete again in Friday's Ultra Lightweight race onboard her Black Horse Motorcycle Finance sponsored Honda RVF400.

Maria would like to say a special thank you to FW Developments, CMS Car & Commercial Repairs for their added support for this year's Manx Grand Prix.

Practice starts on Saturday evening (18th August) with sessions for all machines. Evening practice sessions continue from Monday until Saturday (20 -25th August).

Races:

Monday 27th August – Senior Classic / Newcomers race (125/400 & 750 run concurrently).

Wednesday 29th August – Classic Junior 250 & 350cc / Junior.

Friday 31st August – Lightweight 250cc & Ultra Lightweight 125 & 400cc / Senior.