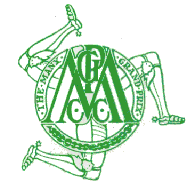 Nearly 60 newcomers were champing at the bit, including Italian beauty Simona Zaccardi and the first-ever Spanish entrants Sergio Romero and Jose Maria Burgaleta.

A couple of anxious fathers were spotted clucking over sons – Bill Swallow with Chris and Steve Linsdell with Ollie. Chris is riding a 350cc Ducati in the Junior Classic, while Ollie rides a 400cc Yamaha in the Ultra-Lightweight. Former winner Bill has packed in riding the MGP, but Steve is back for another go on the Italian Paton four-stroke twin, a couple of months after riding a 500cc two-stroke four-cylinder version in the TT.

Helping out the travelling marshals by heading groups of ten on their introductory laps were TT stars Chris Palmer, Chris Heath, John Barton and Richard Quayle. The two newcomers at the front of affairs were Justin Croft from Douglas and David Lumsden from Skerries.

Once the final group of newcomers reached Kirk Michael, non-newcomers were released, headed by Andrew Neill from Dungannon and Scott Wilson from Burton in Kendal.

Soon, the newcomer's field completed their lap, and took a few minutes out while they awaited permission to go out again in company of the Classic and Ultra Lightweight runners. Heading the Classics away was the winner of the first-ever event in 1983, John Goodall from Haverfordwest.

As usual, the opening session for Newcomers was untimed, but good conditions enabled quite rapid speeds. There was a good crowd at the main Grandstand and around the course, even though viewing was restricted on the Mountain section to minimise the risk of foot-and-mouth disease being spread to livestock.