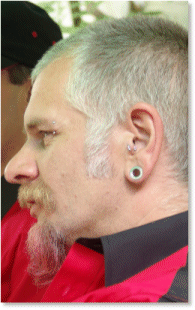 However, he was somewhat detuned by passing a "nasty" at Waterworks, where Marie Hodgson was off unhurt, but Robert Gordon, also off, was on a stretcher on the road - he turned out to have "only" minor fractures, but our boy toured back and parked the 600. "Slow" lap at 96.6mph (was round at 99.76mph last night).

The decision whether to go out on the little one was made for him by dropping mist on the Cronk y flat (sorry, Cronk y Voddy straight) where the helicopter wouldn't be able to land, so they pulled the plug for the evening - the Newcomers 400s, Ultra Lightweights and Classics didn't get out at all.

Some concern was felt in the paddock, he told me, by the rumour that a double "off" at Alpine 'Ouse was a bad one, and indeed the worst was feared.

However, the Manx Club are posting commendably early practice summaries this year, and it has transpired that the two off were Irish newcomer Kevin Fitzpatrick and Neil Cudworth, who is anything but a newcomer - his first Manx was 1979, the year after my first ride there!

Anyway, the word is they both "sustained possible minor fractures, with Kevin up and walking".

Lucky boys - Alpine is no place to jump off!

One wonders if the newcomer maybe tried an overtake?? Not recommended . . . . .. . .

Here endeth . . . .. . .