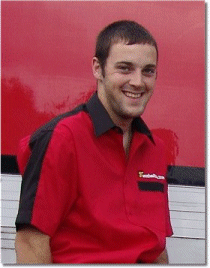 It was with some trepidation that Dan went out that night, not knowing how the bike would perform, however he managed a 103.77 mph average for the night and was relatively happy, apart from a skittish front end.

A few changes were then decided to be undertaken to see if the handling could be sorted out. This entailed a change of front forks in order to stop the "skittishness" and a minor adjustment was also undertaken to the rear shock.

A minor gearing change was also made, in order for Tuesday nights run to be compared against Monday nights run where he was clocked at 137 down Sulby Straight. This proved to be move in the wrong direction as the top end dropped to 132 on the night, but surprise, surprise the average achieved on Tuesday night was better, with a 104.57 recorded. Obviously the handling proved much better and upon having a look at the engine internals after practice, it appears that all is well in that department.

Even although Dan recorded a 104.57 on Tuesday, he managed to do this with a "stop" on the mountain, to fix a power cable that had become disconnected. A quick fix, a bump start and away again, and he recorded his fastest time yet over the course. What could he have done if he hadn't had to stop ????

Wednesday was spent reviewing the information gathered from Monday and Tuesday nights runs and a few small alterations being made to the suspension and the gearing. It was with a lot of optimism that Wednesday night was looked forward to, but it was not to be, as low cloud enshrouded the West of the Island and only the first session managed to get any laps in. Practice was called off at around 19:40 or so, and now we have to wait for Thursday night to see if the recent "tweaks" will provide a better set-up for the "wee bike".

Keep you eyes open for Dan, as we are all full of confidence that this year he can prove that he is not only a brilliant sidecar passenger, but also a rising star in his own right on the solos.