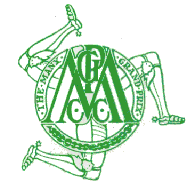 The roads closed as scheduled at six o'clock, and the intended start of practice at 6.15pm slipped only slightly to 6.22, thanks to much hard work all round. Riders were warned that the road was wet where the sweepers had been.

When the bikes did get away, it was the Classic and Ultra Lightweight classes first, excepting a couple of stray Lightweights struggling to qualify –Steve Green from Denbigh and (for the second time in succession) Daniel Williams from Sutton Coldfield.

The Classics were headed off by John Goodall, who went on to do just one lap before putting away his faithful G50 ready for Monday's race. Also right at the front of Classic affairs was Alan Oversby (Norton) who will start first in the race.

By contrast, Chris Palmer sat calmly on the wall until his Fred Walmsley AJS was brought from its stable now sporting streamlining, presumably in a bid to find more speed.

First back at the end of lap one was Rab Davie (400 Honda), who pulled in, but most of the rest cracked on for a second lap in the good conditions. Ryan Farquhar switched from his Junior Honda to the mighty Senior Paton, taking time out to check his 100.094mph lap on the smaller steed.

The final main practice saw the Seniors, Juniors and Lightweights set off at 7.20pm, headed by Carolynn Sells and Michael Weldon on their 600cc models. They were followed by a large field as a shower or two threatened.

As time ran out nearly everyone had qualified, though there were one or two hard luck stories which will mean pleadings to Clerk of the Course Neil Hanson. Late on, thick mist suddenly descended on the Mountain and only a couple of riders were running ahead of it, including Adam Barclay at 114.385mph. They were flagged off at the Grandstand and the rest ran home under waved yellow flags. A typical end to a troubled week for weather.

Only one lap bettered those previously achieved. Ewan Hamilton from Drumoake lifted the Lightweight Classic best to 92.903mph on his Suzuki. The fastest lap pf the week was set by Barclay (750 Suzuki) at 116.479mph on Friday evening.