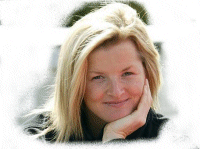 The female TT lap record and Guinness World Record holder broke her femur, shoulder blade and multiple ribs in a crash during MGP practice less than a year ago but was returning undeterred with the aim of putting the accident behind her and competing in the same two races she was forced to miss in 2006.



" A year is a long time to wait before you can put something fully behind you, but I now feel a true sense of closure on last years accident. I feel like the racer I was and I can approach next year without trepidation, " added a smiling Maria.



The weather wasn't on the organiser's side and the usual week of practice was cut short with the first night of practice cancelled altogether and subsequent other sessions scraped due to bad weather. This didn't help Maria's chances of fixing early suspension problems on the Bering Honda CBR600RR, both the forks and rear shock had to be removed for repair or alterations by expert Dave Hagen and despite the extensive work done to the suspension, problems still plagued her throughout the four lap Junior Race on Wednesday.



" We ran out of time to test the final changes we'd made so it was always going to be a tricky race. The bumpy sections were really hard work. Incredibly I've actually worn through the leather on the inside of my knees trying to hold on. I just wanted to get a finish in preparation for Friday's Ultra Lightweight race so I am satisfied to have done that, " added Costello.



Her finish in the Junior race was eclipsed by a far greater performance in Friday's Ultra Lightweight race which was also affected by bad weather when fog caused a three hour delay to the start. On board her very own Honda RVF400 she seemed back on form and although forced to race in her least favourable wet and foggy conditions by lap two she was lying in a commendable sixth place. Pitting at the end of lap two should have been just to take on fuel but Maria was gesturing to her pit crew (her Fiancé Dave and friend and TT racer Mark Buckley) that there was a problem with the bike. Oil was all over her race boot. A crack in the sump was identified and Maria was forced to retire from the race and a possible top six finish.



A disappointed but up beat Maria said;-



" I so enjoyed that race. I knocked it off in the wet and a few came past but I tagged on and we caught some others, we were going in to corners five a breast, it must have been great for spectators watching. I was keeping up with these guys until my foot started slipping off my foot peg. I managed to look at my foot as I exited a corner and saw it was covered in oil, some how I got the bike back to the pits hoping it could be fixed. Of course it's not great being forced to retire as you don't even get a finishers medal but it's a whole lot better than ending up in hospital ".



Olivier Linsdell took a well deserved victory after leading from start to finish. Almost two minutes behind in second place was Tim Sayers with Keith Costello third and Joe Phillips fourth. However the conditions deteriorated even further and promoted officials to red flag the race. The Clerk of the Course declared that the result would now be taken from positions at the end of lap three. This promoted Joe Phillips above Keith Costello, who had finished the full distance in third. Keith Costello appealed and was re-instated into third by the jury.



Maria completed her full circle of events by returning to Noble's hospital where she under went surgery in 2006. Only this time she was visiting with gifts of thanks for the Ward 11 staff who had looked after her so well.



Maria would like to thank her Fiancé Dave for his enduring faith and belief and all the sheer hard work he put in to making the Manx happen. To sponsors; CMS Car and Commercial Repair of Blackburn, Tony Holmes and FW Developments for their ongoing support. To Mark Buckley for his constant assurance and mechanical assistance. To Sarah Moore for being such a great friend and for being at end of each race.