Rizla Suzuki revved up for the penultimate round
Author: Rizla Suzuki
Posted on: Wednesday, Sep 19 2007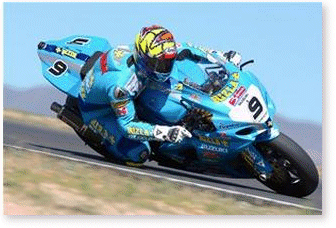 Cal Crutchlow piloted his Rizla Suzuki GSX-R1000 to his best ever Superbike results at Cadwell Park at the last round in August with a fourth and fifth and is looking to make the elusive step onto the podium at the challenging 2.5-mile long Donington Park.


"I feel that I am riding better than ever and my Rizla Suzuki is doing everything I want," explained Cal. "For the last few rounds we have made very few changes and my results have been getting better and I think it will be more of the same this time out. I want a podium finish before the end of the season and will be doing all I can to achieve it at Donington Park."


Rizla Suzuki racer Chris 'Stalker' Walker joined Cal at a test at Donington Park in May as part of the Bikefest show and was marginally faster than his team mate on the day. He said: "The test we had at Donington earlier in the year was very useful. Our lap times were fast despite a lack of rubber on the track and we left with a good set up on my Rizla Suzuki.


"I have two races left to show exactly what I can do on a Superbike and I want to get back on the podium for Rizla Suzuki and all the Stalker fans. Donington is my home track and one I am familiar with from World Superbikes so it's a big opportunity for me and the team."


Rizla Suzuki Team Manager Simon Buckmaster is enthusiastic about the team's chances at the Derbyshire track that is famous for hosting the British round of the MotoGP Championship. He said: "Rizla Suzuki is revved up to get back on track and racing again. We feel as though we are in the ascendancy and have a real shot at the podium in the two final rounds."


Superbike racing gets underway at Donington Park at 1247 on Sunday, September 23rd, with the second race starting at 1623. The action will be broadcast live on ITV4 with the coverage starting at 1230, while delayed highlights will be shown on Sky Sports 3 at 1930 on the same day.