STEVE PLATER POSTS STRONG RESULTS AT DONINGTON PARK
Author: Helen Pask
Posted on: Tuesday, Sep 25 2007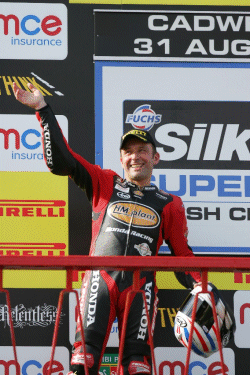 Qualifying saw the Woodhall Spa star pull a quick lap out of the bag to post 16th quickest time and secure a fourth row grid position for the start of Sunday's two 20-lap affairs and he said: "We have improved quite a way today and are reasonably happy with the way things have gone in qualifying. But we are struggling for grip in a big way and I defy anyone to go faster on this bike at the moment. My times on a race tyre are around 1m 33s which is a fairly decent time but I couldn't go any faster on a qualifier because basically we had no grip. We are actually starting from row four which is not as bad as we have been earlier in the year but as usual, we need a good start. My race pace is ok so we shouldn't be a million miles away from a couple of top tens."

True to form Plater got a scintillating start to the first race to move straight through to 13th position, gradually making up ground to finish in 10th place to claim a further six championship points.

"I am surprised I didn't get a jump start as I got away mega quick," laughed Plater. "I just got my head down and clung on to the three riders ahead for a long time. But then I made a few mistakes and lost the tow a little bit. But I am happy with the way things went and we will make a few adjustments to see if we can run a bit faster in the second race."

Again Plater made a good start to his race, this time moving straight into 11th place. He briefly held ninth position before entering into a race long battle with Michael Rutter who eventually got the better of him leaving Plater to complete his weekend with a fine ninth place finish.

"I was fighting with Rutter throughout the second half of the race. I passed Tommy Hill, Scott Smart and Karl Harris and then got ahead of Rutter but he came back at me and had that little bit more grip than me towards the end. I made a mistake on the last lap when I tried to get by and had to settle for ninth place.

"But we are happy enough with the improvements and have gone forward all weekend so are going in the right direction for Brands Hatch so the whole team is happy."

The final round – two races – on the British Superbike calendar take place at Brands Hatch on October 14 when Plater will be hoping to end his campaign on a high with two strong finishes.