NCT Racing Donington Race Report
Author: NCT Vanfit Racing
Posted on: Tuesday, Sep 25 2007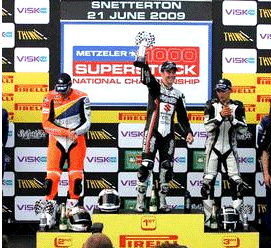 The VanFit Yamaha team went testing at Donington 2 weeks prior to the race meeting in order to prepare and provide Alastair with the best opportunity for the 2 races to come. This paid off handsomely when Alastair qualified on 2nd row of the grid equalling his best qualifying performance.

In the first race Alastair slipped easily into 3rd position at the first corner and came round in 5th at the end of the first lap. A few laps later he was pushed wide which dropped him back into 10th position but in a close knit bunch of top riders he fought his way back to take 8th place and another 8pts.

Overnight chief technician Derek Huxley made some minor alterations to the set up of the bike which Alastair tried on the Sunday morning warm-up session.

The second race was closer fought with Alastair battling throughout with championship contender Steve Brogan and ex Superbike rider Pete Hickman which saw Alastair as high as 6th place. He eventually finished a solid 9th again coming away with good points and in the top 10 of the championship table.

It has been a solid performance from Alastair this weekend and in the NCT VanFit Yamaha teams first year in the Superstock championship this represents a solid achievement to date. Alastair should finish at least 8th in the championship by the end of the season.

The teams focus now moves to the final round at Brands Hatch on 13th/14th September which again is a double header. The NCT VanFit team will be out testing on the Brands Indy circuit prior to race day.