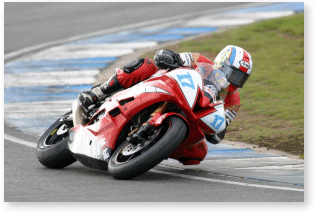 Steve Plater rode to another two strong top ten finishes powering the AIM Yamaha R1 through to 10th in race one followed by a ninth in race two which move him up the points table to 16th.

Qualifying saw the Woodhall Spa star pull a quick lap out of the bag to post 16th quickest time and secure a fourth row grid position for the start of Sundayís two 20-lap affairs.

True to form Plater got a scintillating start to the first race to move straight through to 13th position, gradually making up ground to finish in 10th place to claim a further six championship points.

As the lights went out at the start of the second race Plater again made a good start, this time moving straight into 11th place. He briefly held ninth before entering into a race long battle with Michael Rutter who eventually got the better of him leaving Plater to complete his weekend with a fine ninth place finish.

STEVE PLATER

I was fighting with Rutter throughout the second half of the race. I passed Tommy Hill, Scott Smart and Karl Harris and then got ahead of Rutter but he came back at me and had that little bit more grip than me towards the end. I made a mistake on the last lap when I tried to get by and had to settle for ninth place. But we are happy enough with the improvements and have gone forward all weekend so are going in the right direction for Brands Hatch so the whole team is happy.


Steve Neate posted a quick time in qualifying to make a start from row three of the grid in 12th position but he got away to a bad start in the scheduled 18-lap British Supersport race and dropped down the order to 18th position.

He was preparing for a fight back when the red flag brought the race to a standstill while an oil spillage from another competitor at Craner Curves was cleared up.

The re-started race was to be run over eight short laps and it was imperative to get a good start. But again Steven was a little slow off the line and dropped back to 20th on the opening lap. But he got his head down and made his way through to 14th place on the final lap to bag two championship points for the team.

STEVEN NEATE

It was a bit of a tricky race for me as I made a bad start. Then I got stuck behind a group and was also struggling with a bit of front-end chatter. But then the red flag came out for the oil spillage and we were able to make a few adjustments, which cured the vibration. But we had to sacrifice a bit of in line braking through the Esses and Melbourne, which lost us a bit of time.

I was able to collect a couple of championship points from the weekend for 14th place but in hindsight I would have liked to have done better. But its only three weeks to Brands and I am sure we will improve there.


ALISTAIR FLANAGAN

The problem with the Superbike was with the tyres and we had to go and beg for a tyre for race day. After that things went a lot better so itís a shame we didnít get the tyre on Friday. Steve did well, he got into the top ten once again and equalled his best finish of the season so we feel we are finally getting somewhere with the bike.

As for Steven Neate, he has again tried his best to give us a good result. He just needs to get off the line at the start a bit quicker. He was pretty upset about that and I think he will have learned from this for Brands. But on saying that he too brought the bike home in the points so things are looking positive for the final round at Brands Hatch next month.

The season finale is at Brands Hatch on October 14 where both AIM Yamaha riders will be looking for good points-finishes to end their campaign on a high note, both for themselves and the team.