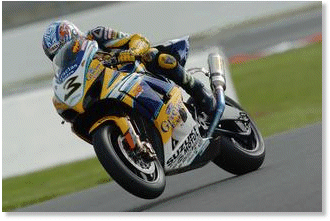 Just as the session began, light rain began to fall, making the 4.411 kilometre circuit very slippery in places. Although the rain soon stopped, most riders stayed in the garages and waited for the track to dry out before trying to set a fast qualifying time.

Neukirchner, deputising for injured Yukio Kagayama, managed to go out and complete a lap in 1:42.397 to end the day 13th quickest overall, whilst Biaggi set a lap of 1:42.620 and finished 14th overall. Neither rider wanted to take any risks, on a track that was still damp in places, so took things steadily instead.

Italian Lorenzo Lanzi (Ducati) posted the day's fastest time in qualifying with a lap of 1:40.962 with Troy Bayliss (Ducati) second and Noriyuki Haga (Yamaha) third.

Max Neukirchner - 13th, 1:42.397:

"Even before the conditions worsened in the afternoon, I wanted to ride steadily and get to know the bike and the team. The Alstare Suzuki K7 feels very different to my K6 and works much better in all areas. The chassis, engine and brakes are wonderful and I found it quite easy to get a good rhythm in the morning untimed session. I spent the day learning the bike and also the team. I know that this is not going to be an easy weekend so I have to try and get a lot of work done very quickly. In qualifying this afternoon, the track never completely dried out and because the new parts of tarmac are very dark, it was impossible to see how wet it was in places. I didn't want to crash so I took it pretty steadily this afternoon, knowing that tomorrow we will see a big improvement."

Max Biaggi - 14th, 1:42.620:

"I know I have been here before but the conditions - and the bike - were very different then. That was about a year ago, so basically I started afresh here today. At the moment I a still trying to learn the secrets of the track but once I do that, I can push a lot harder. We started today with our Vallelunga set-up but it didn't really work, so we will make changes for tomorrow. This afternoon it wasn't necessary to take any risks so I just rode steadily and tried to get us much info as possible to help us tomorrow."

Friday WSB Qualifying: 1 Lanzi (I-Ducati) 1.40.962, 2 Bayliss (AUS-Ducati) 1.41.334, 3 Haga (J-Yamaha) 1.41.402, 4 Nieto (E-Kawasaki) 1.41.423, 5 Corser (AUS-Yamaha) 1.41.423, 6 Xaus (E-Ducati) 1.41.731. 13 Max Neukirchner (D-Alstare Suzuki Corona Extra) 1.42.397. 14 Max Biaggi (I-Alstare Suzuki Corona Extra) 1.42.620.

SUPERSTOCK 1000:

Despite problems with traffic and getting held up by slower riders in this afternoon's timed qualifying session, Team Alstare Suzuki Corona Extra rider Xavier Simeon still managed to set the second quickest time of the day.

The young Belgian experienced a difficult qualifying but kept his head and set his fastest lap on the very last lap of the day. Italian Claudio Corti (Yamaha) took provisional pole at the 4.411 kilometre Magny-Cours circuit with 'Xavi' second, Brendan Roberts (Ducati) third and Ayrton Badovini (MV) fourth.

Xavier Simeon - 2nd, 1:43.688:

"That was a bit of a close one! For most of the qualifying session I was stuck in traffic or held up by riders getting in the way when I was trying for a quick lap. With only a few minutes remaining I was only ninth fastest, but I put in a big effort and did a fast lap - quick enough to end the day second! It was on my very last lap of the day! It's just as well, because my team would have been very angry with me, if I hadn't got on the provisional front row!

"We've had some suspension and rear grip problems today so to finish second quickest is quite good I think. However, we've got some ideas about what to do tomorrow and I am sure we can improve a lot. Whatever happens, I must be on the front row of the grid after qualifying tomorrow if I am to have any chance of a good result. I know that it doesn't look likely that I can take the title, but I am going to go all-out for the win, have some fun and see what happens to the others."


Friday Superstock 1000 Qualifying: 1 Corti (I-Yamaha) 1.43.065, 2 Xavier Simeon (B-Alstare Suzuki Corona Extra) 1.43.688, 3 Roberts (AUS-Ducati) 1.43.751, 4 Badovini (I-MV) 1.43.817, 5 Scassa (I-MV) 1.43.958, 6 Van Keymeulen (B-Yamaha) 1.44.018.