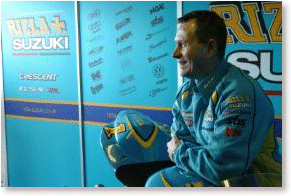 Famous for his typically British fighting spirit, JR was given the go-ahead to race by his specialist doctor yesterday. Today he rode his Rizla Suzuki GSX-R1000K5 at Mallory Park and told his team that he is going to start the defence of his title at Brands Hatch.

The 39-year-old Nottingham-based Champion has made a miraculous recovery from the four breaks to his tibia and single break to the fibula that he suffered at a team test at Valencia on February 18th. This type of injury can take many months to heal but thanks to the support of his team as well as expert care using a pure-oxygen hyperbaric chamber, lazer treatment and a specially made Alpinestars race boot, JR will be back in action this weekend.

Rizla Suzuki racer Scott Smart is fired up for the start of the 2005 Championship after a successful pre-season test programme. With riding time on the GSX-R1000K5 on his side and a comfortable set-up, Scott is keen to make a successful debut for his Rizla Suzuki team.

The first round of the British Superbike Championship takes place at the Brands Hatch Indy circuit in Kent on Bank Holiday Monday, March 28th. It will be shown live on Sky Sports. Highlights will be shown on Channel 4 the following weekend.

John Reynolds:
"I completed 15-laps of Mallory Park today and I am pretty happy that I can ride at Brands Hatch this weekend. I'm going to defend my title from the off and my rivals had better be ready.

"I have asked my team technicians to alter my right foot brake settings so I can move around the bike more easily, but apart from that I am ready. I am not at full fitness, but I want to ride and more importantly, race. See you all at Brands Hatch."

Scott Smart:
"I am properly looking forward to Brands Hatch and getting the season underway. It's great news for Rizla Suzuki and all the race fans that JR is going to be lining up at Brands - it's probably not so much good news for his rivals.

"My Rizla Suzuki GSX-R1000K5 is a really strong bike and I've enjoyed some very good tests on it. I am comfortable and it's time to show what I can do, I can't wait!"

Robert Wicks, Rizla Suzuki Team Manager:
"It's nothing short of miraculous that JR has recovered sufficiently in just over five weeks to race at the opening round. Let me be the first to call him a hero, because the British Bulldog determination and effort he has put into healing has been truly inspirational.

"Thanks to everyone who has made his recovery possible, including the Rizla Suzuki team, JR's surgeon David Hahn at Queens Medical Centre in Nottingham, Brian Simpson who has been treating him in Ipswich, to Jonathan Palmer from Motor Sport Vision for assiting with a plane to bring him home to the UK from Valencia and the pilots John Daly and John Scurr who flew him back so quickly and comfortably, as well as Stuart Higgs at the MCRCB for arranging an ambulance to transport him from the airport to hospital.

"JR is so fast at Brands Hatch that we hope he'll score some decent points and that's the main aim for this weekend.

"Scott is on top form and is happy with the set-up of his Rizla Suzuki. He's going to be very hard to beat and now has the tools to prove what we already know - that he's a world class rider with the ability to win Championships."