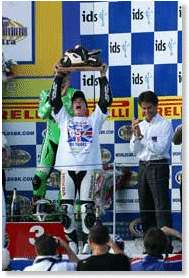 The 27-year-old collected the win by the narrowest of margins following two difficult 23-lap races. Race one saw Toseland forced off the track on the opening lap after Lorenzo Lanzi high-sided in front of him leaving him nowhere to go but onto the gravel. The new champion remained aboard the HANNspree Ten Kate Honda CBR1000RR and re-joined the track at the back of the pack.



Toseland concentrated on the task at hand and set about carving his way through the field - eventually settling for a safe seventh position. Noriyuki Haga claimed the race win to move into second position overall and narrow the gap in the championship standings to 17 points.



HANNspree Ten Kate Honda's Toseland returned to the track for race two with a difficult task ahead and knowing that he must finish in eighth place or higher. The Brit did not enjoy the best of starts and slotted into sixth position from pole before moving up to fifth on the opening lap.



The determined rider soon came under pressure from Troy Bayliss and Max Neukirchner and by lap five the German rider passed the HANNspree Ten Kate Honda rider, relegating Toseland to sixth place. However, just three laps later Neukirchner crashed out, leaving only Bayliss to challenge the World Superbike Champion.



Bayliss passed Toseland on lap 11, while Toseland's team-mate Roberto Rolfo slotted into seventh position. The riders maintained station until the chequered flag with Rolfo assisting his HANNspree Ten Kate Honda team-mate to ride safely to championship victory with a two-point margin.

A tenth and seventh position respectively places Rolfo eighth in the overall standings, on equal points with seventh-placed Lanzi. Toseland's title rival Noriyuki Haga claimed a double race win - but it was not quite enough to seal ultimate glory.



Ronald ten Kate, Team Manager:



"What an incredible end to a fantastic season! To be honest, we had a lot of bad luck today in the races. The first race James was run of the track and I think at that point he made a decision to fight as hard as he could to get back up. That showed just how much he wanted it and I think everyone in the paddock agrees that James is the one who deserves this. In the second race he knew where he had to finish to get the title. It's nice that the Honda CBR1000RR has finally won a title.



"I want to give big compliments to my team - it has only been four years since we started in this business and it has been a learning curve. We are still a local Dutch dealer going racing so this is pretty great for us. In conclusion, today has been not too bad at all!"



James Toseland:



"It's about time!! I have led the championship from Qatar and what an incredible championship it has been. I think this has been the best World Superbike season I have ever experienced and I have been riding in the series for seven years now. The standard of riding has been incredible and I have enjoyed battling with all of the riders - Bayliss, Corser, Biaggi, Haga - the list goes on! I have been pushed to the absolute limit and to win the championship by just two points is unbelievable.



"To get pole position and the series title at my last Superbike round is amazing. This is what I live for, it's what really matters to me and I wanted it so much. This is my way of saying thank you to everyone who has supported me through my Superbike career - my friends, my family, my sponsors, FGSport and the whole Superbike team and of course, HANNspree Ten Kate Honda. I can leave for MotoGP with my head held high and the knowledge that I gave this championship my all until the very last race."

Roberto Rolfo:

"Today's races were tough. I tried my best to get up to the front but everyone was fighting so hard for the last race. Anyway, I have had a good season with HANNspree Ten Kate Honda and I have learned so much. I am happy for James and Kenan and it is great to see the team on top in both Championships. They certainly deserve it."