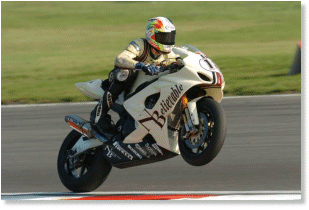 Aboard the 1000cc Team NB Suzuki, the Etchilhampton near Devizes rider had a traumatic practice and qualifying session which saw him placed on the penultimate row of the grid but when race day arrived, Tommy came out fighting and in front of a massive crowd, battled his way through the field from his lowly starting position.



Lap by lap, the former runner up in the Virgin Mobile Cup runner-up picked off the riders in front of him and with a fantastic effort in the closing stages, managed to claim 15th place and with it, his first championship point since the Snetterton meeting back in May.



Race two was a slightly different proposition and Tommy was lucky not to get tangled up when a couple of riders crashed in front of him but he recovered to take 21st place out of the 33 starters and in doing so, ended a difficult 2007 season in fine style.



"After Donington, I knew what I had to do to try to get back to my rightful place and although we struggled in qualifying, it came good on race day. I really enjoyed those races and I had a quiet word with Ollie beforehand and he told me what to do and to beleive in myself which I did and he was right. The best thing though, was the rolling burnout at the end of the second race, that's how to do 'em boys! It's been a tough old year but I'm glad I raced again and I'm really looking forward to next year although I'm not sure what or where I'll be racing. I'd like to thank Team NB for all of their help and support this season so to Tony, Norris and the rest of the team, thanks for all you have done for me. Thanks also to mum, dad, Charlotte and Ollie also for their help, now let's go party!" said Tommy afterwards.



Brands Hatch also saw the poignant unveiling of the 'Tribute Mini' which has been built in memory of Ollie who lost his life at Mallory Park in July. The project was started by 21 year old Ollie and the bunch of friends that regularly frequent the Bridewell home and their adjacent Wayside Garage and after his accident, the family and group of friends pledged to finish it in time to take it to Brands and they were true to their word. The 1960's original shell was transformed and the original power unit was replaced by a highly-tuned Yamaha R1 engine along with numerous other performance including lowered suspension, carbon fibre interior and a roll cage, at a cost of £20,000. Tommy and elder sister Charlotte did a demonstration lap in the Mini in front of Sunday's record race day crowd and gained a standing ovation in the process. The car will now be used as a promotional vehicle for Ollie's favoured charity, Cancer Research.