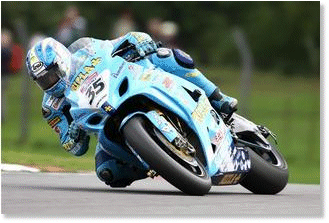 This will be Cal's last competitive outing on his GSX-R1000 this season and he will be hoping to go out with a victory. On his debut with the Rizla Suzuki team at the Race of the Year in 2006, Cal achieved pole position and a second place finish with his team-mate Chris "Stalker" Walker taking the win.


Cal, 21, from Coventry, will be joined by a new team-mate this weekend, Jenny Tinmouth British 125GP rider. Jenny will become the first female in the UK to race a fully fledged Superbike when she rides Stalkers' machine at Mallory Park.


The 29-year-old motorcycle mechanic from Cheshire has been racing in the British 125GP Championship since 2004, and her riding talent was spotted by Rizla Suzuki's former British Superbike Champion John Reynolds.


Jenny will take to the 1.39 mile track on the GSX-R1000 following a test last month in preparation for the race. She is looking forward to the new challenge of the bigger machinery compared to her usual 125cc steed.


Cal:


"I can't wait to get to Mallory as the championship pressure is now off and I can race my GSX-R1000 just for fun. I have achieved all I wanted to achieve in my rookie Superbike season, a pole at Croft and a podium at Brands Hatch Indy. I enjoyed the Race of the Year last year but this time round I'm going out for the win."


Jenny:


"I'm really excited about the opportunity to ride for Rizla Suzuki although I know I will be nervous. I like Mallory, it is a track I know well as I raced there a lot at the start of my career. I think the main thing I will take from this weekend is experience. I will learn lots just from working with a professional team plus I will be on track with a lot of experienced riders too."

The action kicks off on track on Sunday 21st October with practice commencing at 0930 and the racing starting at 1300.