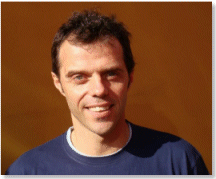 Capirossi joins new team-mate Chris Vermeulen in the two-man Suzuki MotoGP team after the final round of the current MotoGP Championship, at Valencia yesterday, and the experienced racer will begin evaluating the 2007 and 2008 versions of the prototype 800cc GSV-R during a two-day test at the Spanish circuit.

Capirossi hails from Bologna in Italy and began Grand Prix racing in 1990. He has achieved success in each racing category, including World Championship titles in the 125cc class (twice) and the 250cc category in 1998. He still holds the record for becoming the youngest ever World Champion when he won the 125cc title at the age of 17. Capirossi finished 7th in the MotoGP Championship this season and scored one race win to add to his previous 28 Grand Prix victories in the 125cc, 250cc, 500cc and MotoGP classes. Capirossi has also achieved nearly 100 podiums and 41 pole positions in all categories throughout his career.

Thirty four year-old Capirossi joins Suzuki with a vast wealth of knowledge gathered from 18 seasons at the highest level of motorcycle racing and significant experience of Bridgestone tyres. The signing of Capirossi confirms Suzuki's line-up for the attack on the 2008 championship, following the announcement shortly after his excellent second place in America earlier in the year, that current rider Vermeulen was to stay with the team

Loris Capirossi:

"I am really happy because after five years with Ducati this is a very good time to change. I have been talking with the guys from Suzuki a lot and for me it is a really really interesting time and a very big change. I just cannot wait for the first time to jump on the bike. This will be important for me and for all the team. Suzuki looks in a good shape at the moment. Already the bike is good and we have three more tests this year to work on it and make more developments. My motivation is 100% focused on that moment and I have new toys in my hand! I am really happy to be going to Suzuki and start working with my new team. The first time I ride the bike will be the best moment for me. After 18 years in Grand Prix racing I think I don't have many more seasons, so I want to prepare my body and condition myself 110%, and try to do the best I can to challenge again for the championship."

Paul Denning -Team Manager:

"The race team and all the staff at Suzuki headquarters are very happy and excited to be able to announce Loris as our new rider for 2008. He brings experience, determination and excitement to Suzuki's Grand Prix team and, most important of all, the motivation, knowledge and self confidence to win.

"2007 has not been the best of seasons for Loris, but there is no doubt that his ability and drive to win is 100% as he showed in Japan. Suzuki has improved its motorcycle massively and I am sure his knowledge will be a big influence in the future development of the GSV-R. I also believe that he will be a great team-mate for Chris. I'm positive they will be battling hard every weekend but also working well together off the track.

"We see the agreement with Loris as the next step in Suzuki's road back to challenging for the MotoGP World Championship, and we can't wait to see him giving it everything on the GSV-R as soon as possible!"