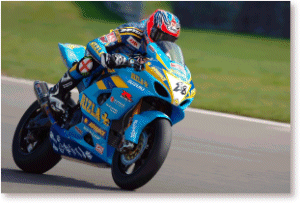 JR, who broke his right leg in five places only 37-days ago in a testing accident at Valencia in Spain, continued his miraculous recovery to spend nearly two-hours on his Rizla Suzuki during free practice. He finished 21st on the time sheets and found a comfortable setting on his bike that will help him to improve tomorrow.

Smart made changes to his GSX-R1000's base suspension settings and tested different rear tyre compounds, completing 90-laps in the practice sessions. The Rizla Suzuki debutant finished eighth on the time sheets and within close striking distance of fastest man of the day, Honda's Ryuichi Kiyonari.

There are two qualifying sessions tomorrow with the racing starting at 13:45pm on Bank Holiday Monday, March 28th, on the fast and furious 1.22-mile long Brands Hatch Indy circuit.

John Reynolds:
"I am pleased to have finished today with a comfortable setting on my Rizla Suzuki and now I am exhausted. I have only completed a handful of testing and practice laps since last September and it is amazing how much riding hard takes out of you physically and mentally.

"My setting on the GSX-R lets me feel completely in control and now I am going to have an early night and come back tomorrow refreshed and ready to cut my lap times. My leg is holding up well, in fact it is easier to ride the bike than walk."

Scott Smart:
"We were able to run consistent mid 46-second laps today, which is very encouraging. We also completed a series of Dunlop tyre tests and found a preferred option for the race.

"We still have some work to do, but a lot of the improvement will come from me personally - I was trying too hard today. I have spoken with my crew and the plan for tomorrow is to go for smooth lines rather than trying to push too hard. One thing's for sure, my Rizla Suzuki is a missile and doesn't lack horsepower in a straight line."

Simon Green, Team Co-ordinater:
"JR has been inspirational to the entire team just by being here and riding despite his injury - normal people would take around five months to walk again but JR has beat the odds and is here racing after just five weeks. He's found a comfortable setting on his bike and while he is disappointed not to be closer to the front times, after a good night's sleep he will come back stronger tomorrow and we are confident he will continue to go faster.

"Scott is happy with his Rizla Suzuki and is just over half a second away from the fastest time of the day. He was trying very hard today - too hard when we analysed his performance after the sessions. It sounds bizarre, but if he slows down into the corners slightly, he'll go a lot faster through and out of them and that's the plan for tomorrow."

Practice Times: 1: Ryuichi Kiyonari (Honda) 45.974, 2: Leon Haslam (Ducati) +0.314, 3: Karl Harris (Honda) +0.335, 4: Michael Rutter (Honda) +0.380, 5: Jeremy McWilliams (Honda) +0.400, 6: Sean Emmett (Yamaha) +0.485, 7: Glen Richards (Kawasaki) +0.655, 8: SCOTT SMART (RIZLA SUZUKI) +0.680, 9: Gregorio Lavilla (Ducati) +0.703, 10: John McGuinness (Yamaha) +0.884, 21: JOHN REYNOLDS (RIZLA SUZUKI) +1.700.