TIM REEVES WINS SPORTS PERSONALITY OF THE YEAR
Author: Helen Pask
Posted on: Tuesday, Dec 04 2007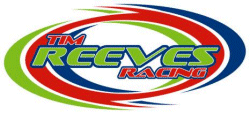 "This is absolutely fantastic," said an emotional Tim Reeves directly after leaving the stage. "I just can't believe it. To win the team award is really great but I didn't think I would have a chance in a million of winning the Sports Personality of the Year award as well. I just want to thank all the people that have voted for us and all my sponsors and everyone who has helped us this year. I am over the moon."



Tim was named as one of the shortlist of four, the other three being cricketer Mushtaq Ahmed, golfer Danielle Masters and speedway racer Nicki Pederson. The public were invited to choose their favourite in a telephone vote and Tim turned out to be the runaway winner with a clear majority over his three rivals.



This brings to a close a remarkably successful season for the Maidstone-based world champion who sealed his third world title along with the world team award for Eastern Airways plus the British F1 Sidecar Championship title after winning all 10 races in the series.



But although the racing season is now over there is no time for Tim and Patrick to rest on their laurels as they now head off to Cartagena in Spain for some winter testing next week to prepare for the 2008 season.