Rizla Suzuki complete snow hampered test
Author: Rizla Suzuki
Posted on: Monday, Mar 24 2008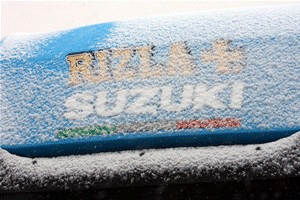 Tom Sykes and Atsushi Watanabe were disappointed at not being able to get on track but the harsh weather conditions put paid to any potential testing.

Although there was a lack of on track action race fans were not left disappointed as the pit lane was opened allowing them to mingle freely with the Rizla Suzuki riders. Sykes and Watanabe spent time chatting, signing autographs and posing for photos with their fans.




Sykes spent time bonding with his team and enjoyed his time with them even though he couldn't get on track. "I'm disappointed with how it has worked out this weekend due to the weather as I was really looking forward to testing at Snetterton," explained Sykes. "There were a couple of things I wanted to try on the bike but it's not a problem they are easy enough to try on my spare bike at Brands Hatch. It would have been good to have a run with everyone but it obviously wasn't to be. I'm really looking forward to Brands Hatch, I feel confident and I just want the season to get started."


Watanabe had hoped to learn the high speed Norfolk track but the snow got the better of him. He said: "I didn't get on track on my Rizla Suzuki but I walked the track with John Reynolds, he explained the lines and braking points. I also go on track in a car so I know where the track goes. I'm very excited about Brands Hatch; I did a track day there on Indy circuit. The Indy track is easy to learn but I need to learn full GP track. Many Japanese riders say Brands Hatch is difficult I will find out very soon!"


Team Manager Jack Valentine was disappointed with the outcome of the weekend. "I really would have liked to test on an English circuit ahead of Brands Hatch. Having said that both riders are race ready and race fit, our bikes are in the same shape. We've not been on track but we can still get on with our final preparations. We got a lot of PR work done for the series and the fans got to meet our riders so at least they got something from the weekend."


The first round of the Bennetts British Superbike Championship takes place on the 4th-6th April at Brands Hatch GP circuit in Kent.