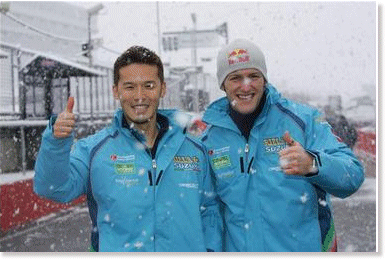 MotorSport Vision Racing, the event organiser, has rescheduled the meeting for May 10th-11th with grid positions from qualifying on April 5th still standing. This means that the Rizla Suzuki pairing of Tom Sykes and Atsushi Watanabe will start from fifth and ninth places respectively.

Both Rizla Suzuki racers were disappointed not to race however it has given Watanabe a chance to learn the arduous 2.3 mile track. "I'm sorry not to race; this is big surprise for me as I never have race cancelled before," he said. "I had not seen snow until I came to England - now I see it a lot. For Thruxton I hope for good weather."

Sykes spent his weekend fine tuning the front end of his Rizla Suzuki and is confident of a strong result on his return to the Brands Hatch GP circuit in May. He said: "It was a very wise and safe decision to cancel the event today. I think it is a good decision by Race Control. Even if the snow had gone it would still have been too cold to run safely.

"It is a shame as I was very confident for my first race with Rizla Suzuki. We wanted to put on a good show for the fans as there has been a good turn out. I'm happy with the information we gained this weekend, it has been useful and I can't wait to get to Thruxton."

Team Manager Jack Valentine echoed his rider's sentiments saying: "The weather has been unbelievable; I've never known a start to a season like this. I'm disappointed that it was cancelled as I think we had a good chance for a strong result. In a way it has done us a favour as it has given Atsushi some time on an English track, plus when we come back here he will know the circuit. Tom has gained a lot of data too so we will be stronger on our return. I'm pleased with how well and how hard the team has worked this weekend."

All race day, weekend and grandstand tickets will be valid for the revised date, May 10-11th. 10-11th. Round two of the Bennetts British Superbike Championship will take place at Thruxton in Hampshire on the 13th-15th April.