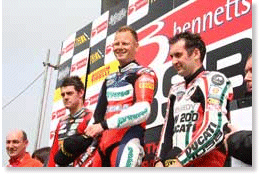 Following a dramatic afternoon of racing, Shane 'Shakey' Byrne and Cal Crutchlow will be leaving the Hampshire circuit happiest, after taking victories in race one and race two respectively. It was Cal Crutchlow who led the pack in race one, shadowed by team-mate Leon Haslam for the first few laps. Pole-sitter Byrne passed Haslam on lap four, diving through on the Airwaves Ducati, before moving on to pass Crutchlow at the front of the field. He did so on lap thirteen and held on for his fourth victory at Thruxton.

'Shakey' said: "We have come along way, and it is great to be back racing and get this result. I settled into the race and Cal was really going for it. I gout up to second and the gap was opening up. As I came across the line a few laps later my pitboard was showing plus zero so I thought I should pull me finger out, which I did! It is a great result for us."

Despite race two of the Bennetts British Superbike event resulting in a maiden class victory for HM Plant Honda man Cal Crutchlow, all the headlines are likely to focus on Rob Mac Yamaha rider Karl Harris, who suffered a catastrophic accident which resulted in a red flag and a restart. The Sheffield-born rider was lucky enough to walk away from being clattered in the face by an airborne Rizla Suzuki, and a broken nose seems good value considering the force of the collision.

After the restart Tom Sykes, on a spare bike after the Harris incident, took the initiative, however Crutchlow could sense a win and went for it with venom. Crutchlow - two laps after the lights went out for the second time - took to the front. After a superb race one, Michael Rutter got in the points again, on lap seven putting a move on Sykes, who by this time was going backwards.

Winner of race one, Shane Byrne, looked dangerous again. He had to wait until lap thirteen before having the opportunity to pass Rutter for second place, and even when he had made up the place it was a battle until the end to hold on.

After the disappointment of the snow-ravaged Brands Hatch, the Bennetts British Superbike Championship has returned with a vengeance, the action at Thruxton proving that it remains the most exhilarating domestic series in the world.

The Bennetts British Superbike Championship next visits Oulton Park on the 3-5 May.

Race one result:
1. Shane Byrne (Airwaves Ducati); 2. Cal Crutchlow (HM Plant Honda) +2.306s; 3. Michael Rutter (NW 200 Ducati) +3.573; 4. Leon Haslam (HM Plant Honda) +10.949; 5. Leon Camier (Airwaves Ducati) +18.745

Race two result:
1. Cal Crutchlow (HM Plant Honda); 2. Shane Byrne (Airwaves Ducati) +1.807s; 3. Michael Rutter (NW 200 Ducati) +2.136s; 4. Leon Camier (Airwaves Ducati) +7.942s; 5. Michael Laverty (Relentless Suzuki by TAS) +11.863s

Championship standings:
1. Shane Byrne (Airwaves Ducati) 45pts; 2. Cal Crutchlow (HM Plant Honda) 45pts; 3. Michael Rutter (North West 200 Ducati) 32pts; 4. Leon Camier (Airwaves Ducati) 24pts; 5. Tom Sykes (Rizla Suzuki) 18pts.