RIZLA SUZUKI MEN EYE TOP RESULTS
Author: Rizla Suzuki Press Release
Posted on: Thursday, May 08 2008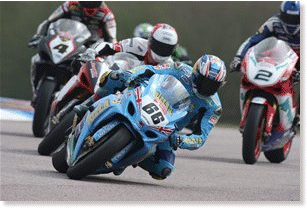 The first round of the Championship progressed as far as qualifying, with Sykes taking fifth place and Watanabe scoring a superb ninth on his first visit to the demanding 2.3 mile track.

Unfortunately the meeting didn't continue as race day had to be abandoned due to heavy snow. The qualifying positions will stand and the two day meeting will consist of free practice on Saturday May 10th with race day on Sunday May 11th.




Sykes is hungry for a podium finish which has eluded him so far this season. He has shown that his Rizla Suzuki has the pace to win and believes it is now just a matter of time. Watanabe comes to Brands Hatch for the second time with the benefit of knowing the track and his top 10 qualifying has put him in a strong position for the race.

Race one will commence on Sunday at 1315 with race two at 1620.

Jack Valentine - Rizla Suzuki Team Manager:

"I'm looking forward to this weekend at Brands Hatch as we have already been there and have good settings for our Rizla Suzukis. We also have the benefit of two more race meetings under our belts allowing us to make the GSX-R1000s even more competitive - as we proved at Oulton Park.

"It will be an interesting meeting for Atsu as he has already been to Brands Hatch and will be under more pressure for a good result. He had a superb qualifying session last time and I think he can push hard for a top eight finish. As for Tom, we all know what he is capable of as we saw that at Oulton Park. I feel we are on for a successful weekend."