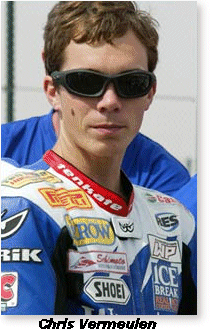 The 2003 World Supersport Champion Chris Vermeulen and his 2005 team-mate Karl Muggeridge will compete in the second meeting of the year on their Winston Ten Kate Honda CBR1000RRs. Each rider will be on home ground in Australia, with friends and family adding their support to that of the partisan local masses.

Muggeridge, the 2004 WSS Champion for Ten Kate, has deservedly earned his ride in World Superbike this year, and but for a bout of severe fever, which afflicted both Ten Kate riders at Qatar, they would have made an even better start to the year than they were allowed by circumstance.

The Klaffi Honda team, up from World Supersport after some sterling performances in the 600cc category, have made diametrically opposite – if highly effective – rider choices this year. Max Neukirchner (21) is teamed with the elder statesman of the SBK grid Pierfrancesco Chili (40).

Their latest delivery of race parts for the CBR1000RR is expected at Phillip Island, but even without their latest modifications, each was a force to be reckoned with in the first round.

In a single rider team, Ben Bostrom (30) has teamed up with proven Superbike race winners Renegade, now on CBR1000RR machinery. Not quite ready to race at full strength at Qatar, and suffering a big crash in testing at Valencia, the Bostrom/Honda/Renegade Koji partnership will be at a higher level of strength in Australia, and at a track Bostrom knows well from previous SBK experience.

For Vermeulen, the forthcoming race will be a chance to prove himself once more, after an outstanding rookie CBR1000RR-mounted SBK season in 2004.

"I like Phillip Island a lot – it's one of my favourite circuits and I've had some good success there in the past couple of years," he affirmed. "I won the World Supersport race there on my way to the title in 2003. Then, last year, I took two second places – my first World Superbike podiums – and left with the most points from the weekend."

"After the test in Valencia, we finally got a bit more quality time on the bike and started to make some real progress – so I think we'll be pretty competitive by the time we reach Phillip Island."

Muggeridge, who is due to be married shortly after the second round, is determined to make up for the disappointments of his illness-affected outings in Qatar.

"I like Phillip Island, although I've never really been very successful there," said the Queensland rider. "The move up from Supersport isn't really anything more than I expected. As far as riding he bikes goes, the CBR1000RR is pretty similar to the 600 machine – they're a similar weight but I've got an extra 70-odd horsepower to play with, which is nice!"

"It's finding the strong base setting that we haven't really had a chance to do yet. I was overall fifth after the two days of testing at Valencia, which wasn't too bad and it was great to put some laps in on the bike, so there's definitely lots more to come."

Fifth place in race two at Qatar, Chili showed his grit and experience, and should be in an even better position for the Australian round.

"We must concentrate our energies on working to make the most of our expected new parts when we get to Australia, said Chili. I am a rider who needs grip for my riding style so not to have the grip I need to go fast was frustrating at the Valencia tests. Phillip Island is a very different track."

Neukirchner showed his true and yet still-developing talent at Qatar, running with the leaders for long periods. His Phillip Island experience has been limited, but it will still prove highly beneficial to him.

"I had my first rides at Phillip Island last year, on a Supersport bike, he affirmed. However, I learned the circuit quite fast. After the Losail races, especially race two, I am confident that we can have some good results."

It has been a tough early season for Bostrom so far, but he is unbowed in his quest for competitiveness in the championship which first brought him to global attention.

"We'll be in much better shape for the Phillip Island races," said Bostrom. "Qatar did not go anything like the way we had hoped it would, especially when race day came around. We will be ready for Australia, and I want to get some good points."

After Phillip Island, the championship circus returns to Europe for the remainder for the year, starting with round three, at Valencia, on 22-24 April.