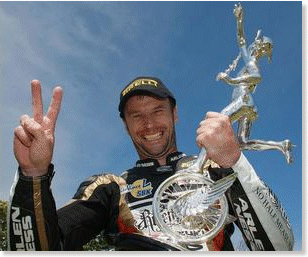 Anstey and Ian Hutchinson couldn't be separated at the end of the opening lap, but the 39-year-old Kiwi dropped the hammer on lap two, opening up an eight second lead, also recording a new lap record of 125.359mph.

From there in, Anstey's GSX-R600 Relentless Suzuki never missed a beat and the quietly-spoken Kiwi took the chequered flag and his seventh Isle of Man TT victory. The win also completed the set for TAS Racing, having now won every available solo four stroke class in TT racing history.

Bruce Anstey:

"I'm just so glad to have been able to give Suzuki, Relentless and all our other sponsors the race win, especially after the disaster for us all on Monday. I was a bit uptight on that first lap, but from lap two I just got into a comfortable rhythm and the bike was faultless. I think I could actually have gone faster but the wind was quite severe on the Mountain. I'm really delighted… that's all I can say."

Cameron Donald:

"We'd made some significant changes to the bike and I was really up for it. I got into the groove pretty quickly and was feeling good to be honest. After a really good pit stop where we made up some time thanks to the boys, I think I was up to eighth when the bike just stopped on the Mountain. My dad is listening at home in Australia so I cheekily asked to use the emergency phone at the Mountain Box - as it was an emergency for me - and rang Oz to let him know I was ok!"

Philip Neill - Team Principal:

"Finally we've got our TT Supersport victory after many years of cruel luck in the class. We really needed to win that race today after Monday's events, and I'm delighted to have completed a full house at the TT. There was certainly more pressure and emphasis on that race today than any other but Bruce showed why he's the best rider in the class. I was always confident that the GSX-R600 Suzuki was the best bike, especially after winning last year's British Supersport Championship. That moves us up to 14 TT wins, which is a remarkable achievement by anyone's standards. It is a shame that Cameron had to retire with a small electrical problem, but to be fare he hasn't really had enough time on the Supersport bike this fortnight. All thanks again must go to Suzuki and Relentless and a big mention must go to Pirelli for supplying the perfect tyre for the job. I'm now really looking forward to Friday's Senior Superbike TT."


Relentless Supersport Race 2 [4 laps]: 1 Bruce Anstey [Relentless Suzuki] 1hour 13mins 35.71 [123.041mph]; 2 Ian Hutchinson [Yamaha] 1hour 14mins 09.76 [122.099mph]; 3 Ryan Farquhar [Kawasaki] 1hour 14mins 23.14 [121.733mph].

Fastest Lap [New Record]: Bruce Anstey [Relentless Suzuki] 18mins 03.51 [125.359mph].